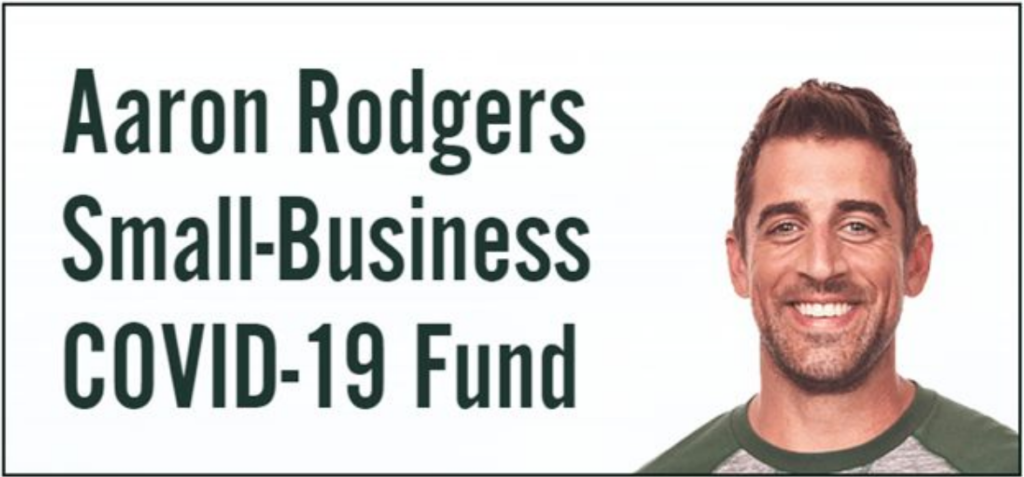 The coronavirus pandemic resulted in the closure of more than 400 businesses in the first nine months of 2020 in Butte County, according to the state Employment Development Department. Many businesses are struggling to hang on.
Recognizing that small, locally owned retail establishments and restaurants are the heart of Butte County communities, that they offer jobs to so many residents and that every dollar spent at a locally owned business is circulated many times in the community, NVCF has created the Aaron Rodgers Small-Business COVID-19 Fund. Funding from the grant program comes from a generous donation from Chico native Aaron Rodgers, the NVCF's COVID-19 Rapid Response Fund and an anonymous community member.
To start, the fund will benefit retail and restaurant businesses in Butte County that are locally owned and operated and have fewer than 20 full-time equivalent employees. Businesses that meet those criteria can apply for aid through the fund and will be asked to demonstrate need.
ELIGIBILITY
Type of Business: Locally owned and operated retail and restaurant businesses in Butte County with fewer than 20 employees (full-time equivalent) are eligible to apply to this grant program. Eligible businesses will be asked to demonstrate need and verify that their business is locally owned and operated.
Non-Discrimination: Organizations must offer services without discrimination based on age, race, national origin, ethnicity, gender, physical ability, sexual orientation, political affiliation or religious belief.
Use of Funds: Funds may be used by grantees to cover expenses that put the organization at risk of closure or layoffs. This may include fixed costs including rent/lease, utilities, and increased supply costs.
Video Submission: All applicants are required to submit a video to video@nvcf.org.
*The video should explain why your organization needs the grant, and videos may not exceed three minutes.
Restrictions: This program will not consider grant requests for capital improvements such as new structures, repair of damaged structures or acquisition of structures.
All applications will be considered by a grant approval committee. Grants will range from $2,500 to $15,000, based on need and situation. 
Applications will be accepted until 5 p.m. on February 12, 2021.
Grant requirements for all awarded grantees
● Grant Agreement: Upon approval of your application, you will receive a formal, legally binding grant
agreement, which will require your signature.
● Monitoring and Evaluation: NVCF requires grantees to submit a brief report detailing use of grant funds.
● Grant Payments: Grants will be paid directly to vendors and landlords. NVCF will collect vendor/landlord
information for approved grantees.
● Public Acknowledgment of Grant: Grantees must acknowledge the Aaron Rodgers Small-Business
COVID-19 Fund in accordance with the communications guidelines included in the grant agreement.
Contact David Little, Executive Vice President of Communications, at dlittle@nvcf.org with questions.
Contact
If you have questions regarding the grant application process or the guidelines, contact Logan Todd, Vice President of Grant Programs and Client Services, at ltodd@nvcf.org.